Yoga for Individuals and Groups and Yoga Workshops are offered in Dublin for all who are either new to Yoga, or Yoga students with some experience, or are Yoga teachers.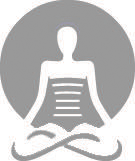 The viniyoga of Yoga refers to the personalised application of Yoga practice. Here the principles of Yoga are skillfully applied in practical and developmental steps making Yoga accessible and yet progressive for all levels of students.
Yoga for Individuals
Within a private situation Individual Yoga lessons provide an opportunity to focus on Yoga practice:
to explore mastery of posture and breathing techniques
to learn how Yoga can support your lifestyle
to promote health for recovery from ill-health
A free consultation is available to discuss your needs, interests and possibilities around Yoga.
To arrange a free consultation contact Michele by phone 086 237 1077 or Email
Yoga for Groups
Within a Group Situation Yoga Classes provide possibilities for time out from the stresses and demands of daily life. Classes provide an opportunity to experience and develop in terms of body, breath and mind.
Group Yoga Classes are available for beginners and continuers at:
Marianella, 75 Orwell Rd, Rathgar, Dublin 6.
Group Class Days and Timings for January 2015 to April 2015 are:
Tuesdays 7.30 – 8.45pm
Wednesdays 7.00 – 8.15pm
To discuss or book a place in a group class contact Michele by phone 086 237 1077 or Email
Yoga Workshop Options
Workshops are themed and provide an opportunity to intensify your experience of Yoga.
The viniyoga of Yoga Programme provides you with skills to develop and deepen your practice.
Follow the Yoga Workshop link for further details of Study options